Rainis Park – there is a memorial stone dedicated to the first victims of the Holocaust in Liepaja in 1941.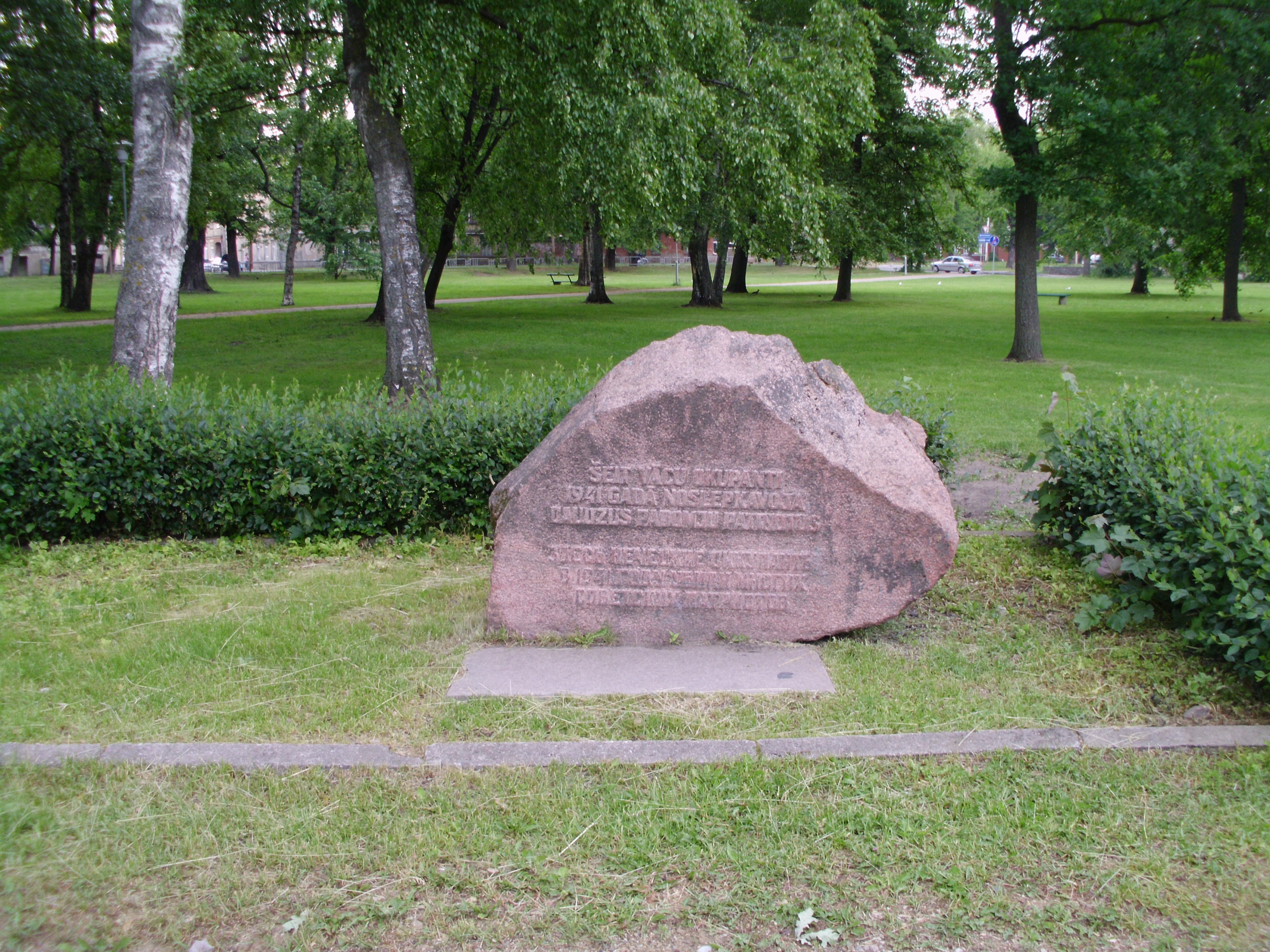 On June 28, 1941, Hitler's troops broke into Liepāja and occupied the entire city by the next morning. On the same day, the Latvian aizsargi1 and hakenkreuzler [Swastikawearers] came out of the hiding. Together with the Germans, they began the persecution of the Jewish population.
The murders of Jews in Liepaja began as early as June 29, but the first documented massacre took place on the evening of July 3 or 4, when Erhard Grauel, the head of the German EK 2 team, brought him into the city. He discovered that the EK1A firing squad led by Fritz Reichert was killing Jews in Rainis Park. It was a German operation, there were no Latvians on site. The exact number of victims is still unknown.
The victims were Jews who were accidentally caught in the streets, arrested communists and their sympathizers. There were fortification ditches left behind by the Russian army in the park. Reichert covered these ditches with corpses. Within two days, 150 Jews were killed.
Over the course of five to six days, about 300 Jews were shot in Rainis Park. Their corpses were dumped into trenches and covered with sand. Because of the hot weather, the bodies of those killed began to decompose, and the Nazis decided to reburial them.
To carry out this work, the Germans captured several Jews in the street, including Kalman Linkiemer (who described this atrocity in his diary). Those captured were sure that they were being taken to work, and were not very upset. But when the men crossed the city bridge to the Rainis Park pavilion, the Germans gave them shovels. The caught men decided they had to dig their own graves. None of them did it, despite the beatings of the Germans. The driver, who was standing with his truck, said that it would be better for them to obey, because would only have to dig up the corpses and then reburial them.
When people barely started digging at a depth of about twenty centimeters, corpses appeared with split heads, and all with bullets in the back of their heads. They soon realized that these were the victims arrested a few days earlier. The men managed to write down the names of the victims. Some were identified, others were reliably identified only by the passports of those killed.
All the victims were buried in the Jewish cemetery, except for five Latvians buried in the Central cemetery.